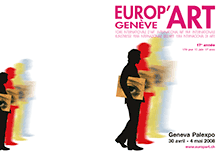 17th EuropArt
2008 4.30~5.4
Genève, Palexpo
Korean Contemporary Art and 'Globalization'
Young Jay Lee

(Curator of Art Forum Asia, Art Critic)
In the early 21st century, one of the remarkable things is that many developing countries are getting more prosperous and make the
economic differences with the developed countries narrower. Many countries in Asia,
South America and Russia, etc. are those. Especially the development in Asia and above all in China is conspicuous. The economic development in China has given a reason to drain the world of its raw material such as oil and has the prices skyrocketed to restructure the world economic configuration. It goes without saying that in those countries have shown up the nouveaux riches, whose wealth are not dried up even after investing in real estate and stock market. So they have hoarded art works through the Sotheby's or the Christie's.
Like most European countries, many people in Asia travel to other countries during the vacation. Even in Korea there are many
Chinese and other foreign tourists. On the other hand, Koreans themselves have been flying not only to China, but to Taiwan, Philippines, Thailand or even to many European countries.
I have ever been overheard from a tour bus driver in Europe that the major tourists are from Korea and Russia these days. Like the
Japanese syndrome gone off in the past, the Korean syndrome seems to be hit up in Europe.
Last year in Europe, the Frankfurt Book Fair and the ARCO in Madrid had already determined the year as the Year of Korea. Korea had long been known to be the hermit kingdom, but many Koreans are now competitively expanding their businesses overseas. The newly powered Lee Myung Bak government plans to restructure the
national educational system into strengthening foreign languages to make the whole nation multilingual like the Swiss, the Dutch or Singaporeans. On the other hand, the numbers of foreigners who have resided in Korea have already been over one million and many of them have acquired even the vote right. Their numbers are expected to more increase in the future, so that the Koreans may confront the moment they have to worry about whether to adopt English as its common language to achieve national integration like Singapore. Having enc los ed wi th na r row-minde d nationalism for a long time, many Koreans now start up communicating with people in
the world and are now getting more openminded.
A TV program from KBS, the biggest air broadcast in Korea, called 'MISUDA' (the Belles' Chat), invites foreign women residing in Korea and have them talked about what they have felt while living in Korea as foreigners. Before, there were not such programs, because such kinds of programs were expected not to attract the audience. But MISUDA has been successful and shall probably be recorded as the first successful one as the program proceeded by foreigners. Most foreign women on this program had come to Korea just to study or to find a job. Some of them have already been leaping to the idols of Koreans. Not only the foreigners are witnessed to show up as the idols in Korea. But in the other direction there had already been occurring to the so-called 'hanryu' (the stream of Korean culture) by many Korean entertainers who had been to other Asian countries and gained success there. Bai Yong Joon, who has been enjoying extravagant popularity in Japan for many years, has already become an Idol in even other countries in Asia. On Chinese TV, Jang Nara, another Korean entertainer, has frequently been shown up. My girl friend is a Singaporean and lives in Singapore. I often come to know some Korean drama titles or some Korean entertainer names through her, otherwise not to recognize. She asks me, but I come to know rather through her.
Korean contemporary art is not an exception either. Even before the word 'hanryu' began to be used by journalism, many contemporary artists in Korea were groping to explore getting into the international stage. Long time ago, when Korea was really true to the name of 'hermit kingdom,' Nam Jun Paik left Korea and worked long in America and in Germany to leave a meaningful trace in the history of contemporary art. At the time when Nam Jun Paik left for America, only a few people could get the permission to go abroad by the government because of the strict regulations. Today there is no prohibitive regulation.
Anyone but the ones who are measured to be 'banned to leave Korea' due to being suspected of crime or tax evasion, etc., can
go abroad. There are only few artists in Korea nowadays who do not have exhibitions in foreign countries. So in Korea nowadays, the
international movements are not 'something unusual' as it was so at the time of Nam Jun Paik, but just one of those things.A change in art style from such streams is in the natural course of events. In the past
there seemed to exist a certain detachment of time between Korean art and the world stream. Nowadays there exists at least a sort
of 'simultaneity' between the international art stream and Korean contemporary arts. It does not mean that Korean contemporary art
is moving just as the international streams of art are. It does mean rather that there exist a creative reconciliation between Korean
tradition and particularities and the international trends.
Art Forum Asia has performed a series of activities to look out over the new art streams from Asia including Korea, speculate and discuss them in the international scheme and to look for a new aesthetics for the changing environments. It does not refer to any specific art group, but a very open-minded forum. In the 17th Europ' Art in Geneva, Art Forum Asia presents a new aspect of Korean contemporary art. It focuses on some art streams under the title of 'Korean contemporary art and Globalization' as the following:
First, it exposes the stream of 'chaesekhua' in Korean contemporary art. Initiated as an antithesis against 'sumukhua', Korean traditional ink painting, that had dominated Korean art world for a long time, 'chaesekhua' is now to supersede 'sumukhua' and to be placed as the mainstream in Korean contemporary art. Mihye Jung and Jee Yun
Choi are classified to stand on this stream.
Second, it focuses on the globalization of Korean contemporary art, which is being approached in view of postmodernism. While 'chaesekhua' looks for globalization based on Korean tradition, postmodern movements inquire it in view of postmodern philosophy.
Art Forum Asia illuminates an art group, 'Here& Now,' in Seoul as an example. Won HeeKim, Yeon Sook Park, Hye Jin Park, In Young
Song, Tae Hee Yoon, Ock Jeon, Jae Sook, Choi belong to this group. Except these two streams, there are also the other one, of which
the artists independently stand on the issue of globalization. Myeong Soon Kang, Hee Kyung Kim, Ly-Won, Jie Yeon Jeon belong to such
stream.